The Coffee Shop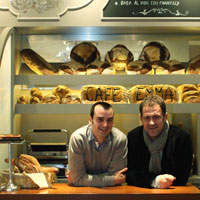 The long friendship between the French chef Michel Sarran and Romain Fornell prompted them to think about a common project. The idea was to create a completely different restaurant, with simple French products.

The project was launched under the name "Café Emma", whose origin comes from the name of the wife of Romain Fornell and daughter of Michel Sarran, both named Emma. It is designed as a French bistro and serves French cuisine with local and international flavors.
This time, the two chefs prepare simple French dishes, as a way to claim their origins. But always with a contemporary twist and market products of high quality.
Café Emma has been designed to offer its clients calm place, relaxed and discreet. This is precisely why the project was entrusted to the wife of Romain Fornell, Emma, who has managed to create a welcoming atmosphere where guests feel at home. A warm and comfortable designed for people of good taste, sometimes with little time to enjoy a cuicine where the quality and substance of the product are essential.

With a capacity of 350 square meters, the restaurant is located down the street Pau Claris (between Valencia and Aragon), in downtown Barcelona.
The restaurant is divided into three distinct parts, the terrace, bar and dining room divided in two by columns. It also has an oyster bar and a space designed as fund a small bakery. Café Emma has a capacity of 100 seats and has a team of 14 people.